Aluminum Door Panels (Bead Rolled) – 47-54 GMC Chevy Truck
Aluminum Door Panels (Bead Rolled) – 47-54 GMC Chevy Truck
Our 1947-1954 Chevy Truck Aluminum Door Panels are the best replacement panel for your truck because they are a much more durable and longer lasting part than the original cardboard door panels. These door filler panels mount easily with optionally supplied screws in the factory location. The aluminum will come with a protective coating to ensure a perfect scratch free finish on the front side.
Our 1947-1954 Chevy Truck - Door Panels are:
★ Laser cut from 20 gauge steel (Aluminum).
★ Bead Rolled with a classic design.
★ Sold as a pair.
★ Protected with a coating to ensure a perfect scratch free finish on the front side.
★ The best way to give your 3100 Advance Design truck a high-end custom look.
★ Mounted easily with optional supplied screws  (factory location).
★ Made to be easily installed by the "do it yourself" mechanic.
These panels fit the same as the factory cardboard and can have some bowing due to the protruding handle mechanism. We recommend flipping the driver and passenger door handle mechanism to the opposite door. In turn, this will help run the linkage in the recessed channel in the door skin. Moreover, even with this done, there is still a slight bow in these or any type of flat panel on these doors with factory handle mechanisms.
Your factory filler panels will rust and will have damage over time. However, LS Fabrication has the ideal GM and Chevy truck replacement body panels that ensure a perfect fit at an affordable price. Also, they are the best looking chevy truck replacement panels on the market.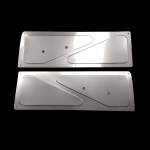 Aluminum Door Panels (Bead Rolled) - 47-54 GMC Chevy Truck
Your review
* Review is required
Email
* Email is required
Add photos or video to your review
Customers also bought…
Here are some other popular Classic Truck Parts for your custom build!