ABS Headliner – 49-53 GMC Chevy Truck
ABS Headliner – 49-53 GMC Chevy Truck
These are the best (and most popular) 1949-1953 Chevy Truck - ABS headliner kits on the market. They are meant to replace existing cardboard headliner.
Features of our 1949-1953 Chevy Truck – ABS headliner kit:
★ Made from ABS plastic to replace factory cardboard.
★ Black in colour with haircell texture finish.
★ Comes with (2) ABS pieces
★ Can be left exposed, painted or covered with fabric.
THIS KIT DOES NOT INCLUDE THE CENTER AND REAR METAL BOW STRIPS

Late 49-53 cab identification

★ Has floating center trim. Trim slides over front panel. Then rear panel slides into back side of floating trim.
★ Center roof supports still appear on some trucks but no center trims screw into it. Also, other cabs have no roof supports installed at all.
★ Weather stripping has a welded channel around the door and is slid into place. No screw fasteners are required.
★ The center trim is located further back in the cab.
★ Also, NO filler strips from factory were required to fill the gaps located on the pillars between the windshield and door weather stripping .
The UNICORN cab identification

★ This cab falls between the early and late 49 cabs.
★ The weatherstripping rubber trim in this cab is held on with the new style slide in retainer that is spot welded to the cab interior face.
★ The roof center trim is still the screw in type and located closer towards the front windshield and not as far back as the later years.
IF YOU HAVE THIS CAB PLEASE ORDER THE UNICORN KIT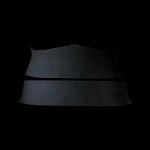 ABS Headliner - 49-53 GMC Chevy Truck
Your review
* Review is required
Email
* Email is required
Add photos or video to your review
Customers also bought…
Here are some other popular Classic Truck Parts for your custom build!