Hood Strut Kit – 47-54 GMC / Chevy Truck
Hood Strut Kit – 47-54 GMC / Chevy Truck
Upgrade your Advance Design 3100 truck's factory hood springs to an efficient and modern LS Fab Hood strut kit, enhancing alignment, mounting, rigidity, and support. These high-performance hood shocks are much smoother and more effective than the outdated factory springs, with better dampening for easy opening and closing. With laser-cut and precision-formed firewall and hood mounting brackets, and heavy-duty sealed bearing gas struts, this kit is engineered for optimal performance.
Our Hood Strut Kit Includes:
★ (2) Firewall Stainless Steel Mounting Brackets
★ (2) Hood 5"  Stainless Steel Mounting Brackets
★ (2) Heavy duty  sealed bearing gas struts
★ (4) 5/16" Gas strut ball studs
★ All required mounting hardware (Including our NEW Ultra Low Profile Hood Mount Bolts)
The stainless steel button head hardware provided in the kit makes it easy to mount the firewall brackets directly to the factory hood spring holes. Additionally, ultra-low-profile stainless steel hood strut bracket bolts are included to eliminate rubbing on your fenders. Take advantage of our hood strut kit's outstanding performance, making your daily drives smooth and enjoyable. Purchase your LS Fab Hood Strut Kit to experience the ultimate upgrade for your Advance Design 3100 truck.
Tips for Installing Advance Design Hood Strut
★ Firstly, The 5" hood bracket requires two 1/4" holes to be drilled in the hood edge for mounting. It is recommended that the first mounting hole to be 5.75" forward of the rear hood bumper rubber.
★ Secondly, The second hole will be 5" on center from the first hole towards the front of the truck.
★ The firewall bracket bolts directly to the factory spring bolt location on the firewall with supplied hardware.
★ Lastly, Mount the ball stud on the outside of the firewall bracket so that the strut is mounted on the fender side of the bracket. Refer to product photos.
The Hood Strut Kits are designed for factory hoods and have not been tested with aftermarket or fiberglass hoods. Be aware that the strut strength may be too much or not enough if using a non stock hood. Adjustment of the hinges and latch may be required depending on your prior setup before installing the strut kit. In addition, if you did not have factory style spring previously on the hood, there is a good chance the hood will need to be adjusted and aligned after install. Also, please see install video below for assistance during your install.
*DO NOT USE MEASUREMENTS FROM YOUTUBE VIDEO FOR OUR NEW KIT WITH 5" Hood BRACKETS!!!
If you are doing work under your hood, be sure to check out our custom bead rolled firewalls and our bead rolled kick panels! We also offer plenty more custom 47-54 Chevy Truck parts and accessories!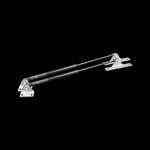 Hood Strut Kit - 47-54 GMC / Chevy Truck
Your review
* Review is required
Email
* Email is required
Add photos or video to your review
Customers also bought…
Here are some other popular Classic Truck Parts for your custom build!