One of the main complaints regarding classic vehicles relates to the quality of the original sound system. Classic cars have tons to offer when it comes to their engines, the quality of the car parts and the innovative technology they use to manufacture the vehicles. However, the audio systems in these vehicles are often not great. Luckily, aftermarket Classic Chevy Truck Speaker Brackets allow you to install additional speakers in your 1973-1987 or 1947-1954 Chevy truck.
Typically, these classic Chevy trucks include dash speakers only. These speakers aren't very powerful and don't provide excellent sound quality, which is understandably disappointing. However, installing LS Fab Speaker Brackets allows you to upgrade your audio system with more speakers and modern technology easily and affordably.
Placing and Installing Chevy Truck Speaker Brackets
Inside the cab of your Chevy truck, you might not know exactly where to place additional speakers. The cab corners contain a lot of wasted space In most cases, this empty space is the perfect place for a new set of 6×9 or6.5" speakers. All you'll need to do is easily install a pair of LS Fabrication Speaker Brackets with the included hardware.
Now that you have the perfect place to put your new audio equipment, it's simply a matter of getting the job done. We offer Speaker Brackets that house 6×9 or 6.5-inch speakers, which are often a large step up from the quality of built-in dash speakers. You'll want to test the fit of your exact speakers with these speaker brackets before you paint or upholster them to ensure the speaker holes work with your specific speaker. If they are slightly smaller, you may have to trip the speaker hole slightly.
Once you've ensured your speakers fit correctly, you're ready to begin the installation process in your truck. You'll want to start by aligning the LS Fabrication Speaker Brackets in the rear cab corner area to determine their exact fit and placement. Be sure to check their position with the seat in its fully back position. Then, you'll need to use the included installation hardware to attach them to the floor. The top can be secured with either screws or welded if you want.
Once you have the mounting hardware installed, you'll be ready to install your speakers. In most cases, speaker installation is fairly straightforward. You'll connect the speakers to the brackets and then wire them through to the correct connections. If you're unsure how to connect the speakers properly, consult the installation manual for your specific speakers.
Will the LS Fabrication Speaker Brackets Fit Your Chevy?
We understand you may have some sizing concerns. Seeing as not every truck design is the same, you might worry that your truck is somewhat too small for the Speaker Brackets. However, we designed our Speaker Brackets to fit properly. They are of 18-gauge raw steel and laser cut for a precision fit. They are shaped and formed specifically to fit the cab corner of the specific era of Chevy trucks.
As mentioned, these brackets specifically fit the 47-54 and 73-87 Chevy pickup trucks. If you have a different year or era Chevy truck, these Chevy truck speaker brackets will not fit correctly. We are constantly working to expand our product line thought so stay tuned and check back for seeker brackets for other Chevy truck eras in the near future.
If you'd like to confirm your speaker fitment prior to purchase, we have posted the bracket's measurements online in the product listing along with the exact hole sizes we cut. Using these measurements, you can easily check the size of the speaker holes and compare them to your specific speakers.
How Can You Customize Your Speaker Brackets?
Two large bare steel brackets may not quite fit with the rest of the interior of your classic truck. Our 47-54 speaker brackets come in a smooth or bead rolled design option to add a little bit of customization and flair to them. Our later model 73-87 brackets only come in smooth as they are much smaller. No matter which year you choose, customizing the speaker brackets to match the interior of your classic truck is easy. They can be spray-painted, carpeted or wrapped in vinyl to look as though they were there from the factory.
Additionally, you'll have two different options for speaker size when purchasing your brackets. Whether you have 6×9 speakers or 6.5-inch speakers, there are options for either in all the years we offer Speaker Brackets for. This design allows you to buy the mounting brackets that fit your speakers properly. While most individuals go with a standard 6×9 speaker due to quality and spacing purposes, the option to use a 6.5-inch speaker is also available.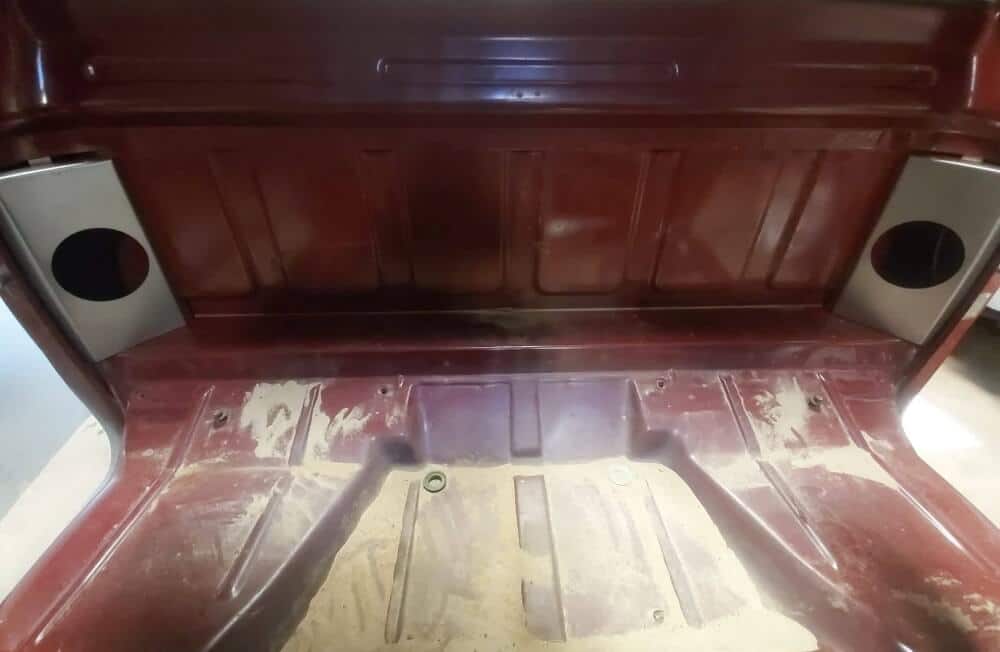 Will You Need Additional Tools to Install Your Squarebody Speaker Brackets?
All of our bracket kits include the hardware you'll need to install the Speaker Brackets. However, you'll need to provide your own tools to install the brackets and speakers. In most cases, you'll need a screwdriver, a utility knife, a socket wrench and an electric drill, at least. However, the type of tools you'll need depends on how you want to install your speaker brackets. Some customers prefer to weld them in position if they are at that stage in their build.
Our kit comes with all the hardware you'll need to install them. Therefore, you don't have to worry about welding the metal brackets to your truck if you don't want to. The brackets are perfect for beginners and individuals comfortable modifying and updating their classic Chevy trucks as they provide the hardware needed for an easy installation.
Ultimately, we provide brackets that are easy to install and are user friendly. We understand that not everyone has extensive experience installing this type of product in their vehicles, which is why we include everything you need to easily install the brackets. We know that modernizing your classic truck is the goal and we do everything we can to make the process as simple as possible for our customers. We are also always available if you have any questions or need any sort of advice.
Revamp Your Classic Truck
Music is important – and therefore, you need a good audio system. Not knowing how to mount your speakers properly is one of the biggest reasons many individuals who own classic Chevys haven't upgraded them to better audio systems. That's why we've created these speaker brackets, providing support and stability to hold speakers in the unused and empty spaces of the truck's cab corner. They're simple to install, made of the highest-quality materials on the market and are affordable. You can easily customize them to match the interior of your vehicle, and, most importantly, they come from a reputable and reliable North American company.
If you're ready to give your classic truck a modern revamp, we encourage you to purchase a set of brackets today. Make sure you check out our reviews too. If you have any other questions before making your purchase, please feel free to reach out to our team for additional information. We're here to help you take your classic truck to the next level.