Classic Chevy Squarebody trucks take a lot of love and care to keep in perfect condition. You'll spend quite a bit of time maintaining yours, so chipped and rusting paint chips is one of the last things you want to have to deal with. Even worse, chipped paint often leads to rusting over time. The front of the rear wheel wells are very prone to these issues on this truck and that is why GM offered the optional upgrade of Stone Shields. LS Fabrication has reproduced these high-end nostalgic pieces to help add style and protect you Squarebody C10.   
What Are Stone Shields?
These shields also referred to as gravel shields, are a stylish stainless steel piece that is installed in front of the rear wheel well. For some individuals, the debris shields are purely aesthetic; they look shiny and provide a bit of sheen to the vehicle. For others, it is a matter of vehicular accuracy. Both Chevy and GMC offered these C10 Squarebody Stone Shields as an option to be installed from the factory for an additional cost.
However, they serve a functional purpose as well. Chevy and GMC did not offer these shields just for their aesthetics but rather to help maintain the paint job on your vehicle. Often, these trucks kick up rocks and gravel on the road. On the lower parts of the vehicle by the tires, this can cause dents and chips in the paint. 
This issue is easily preventable with a pair of Stone Shields. The design of these vehicles leaves them very prone to rock chips in this area which then rust where the paint has chipped away. Even if you're not concerned about a little chip in the paint, rust spreads quickly and can lead to the need for significant repairs in the future. Might as well just prevent it with a stylish Gravel Shield. 
Unfortunately, both companies stopped producing the Chevy stone shields quite some time ago. Seeing as the part is relatively small and simple, many individuals, including some restoration professionals, have decided to forgo the part completely. The main reason for this is that it is now extremely difficult to find original or factory Chevy stone shields. Should you stumble across a genuine, factory GMC truck stone shield, you'll likely have to pay a ridiculous amount of money for it, which frustrates many truck owners. 
Deciding to forgo the gravel shields leaves your Squarebody truck vulnerable to chips in the paint and other potential problems, however. So that is why these stone shields, debris shields, gravel shields, or whatever you want to call them, should be on your vehicle!
Why Are GMC Stone Shields Important?
Ignoring the fact that the GMC truck stone shield is an original part installed on these vehicles when the companies manufactured them, they serve an important purpose. They prevent the chipping of the paint, which not only looks terrible on these classic vehicles but can cause issues with rusting. Over time, rusted parts will need replacing, which becomes exceedingly expensive. 
Repairing classic vehicles like the Squarebody truck is not a task for the faint of heart. Finding the correct pieces, especially for the lower body of the car, is exceedingly difficult. These pieces often experience rusting as many truck owners over time do not keep up with the paint jobs. Therefore, if your vehicle's lower body needs replacing, you may have a hard time finding the original parts you need in good condition. 
Though Chevy truck stone shields are relatively small pieces, they can save you quite a lot of time and money in repairs. Plus, they'll prevent you from paying excessive amounts of money in restoration or aftermarket pieces in the future.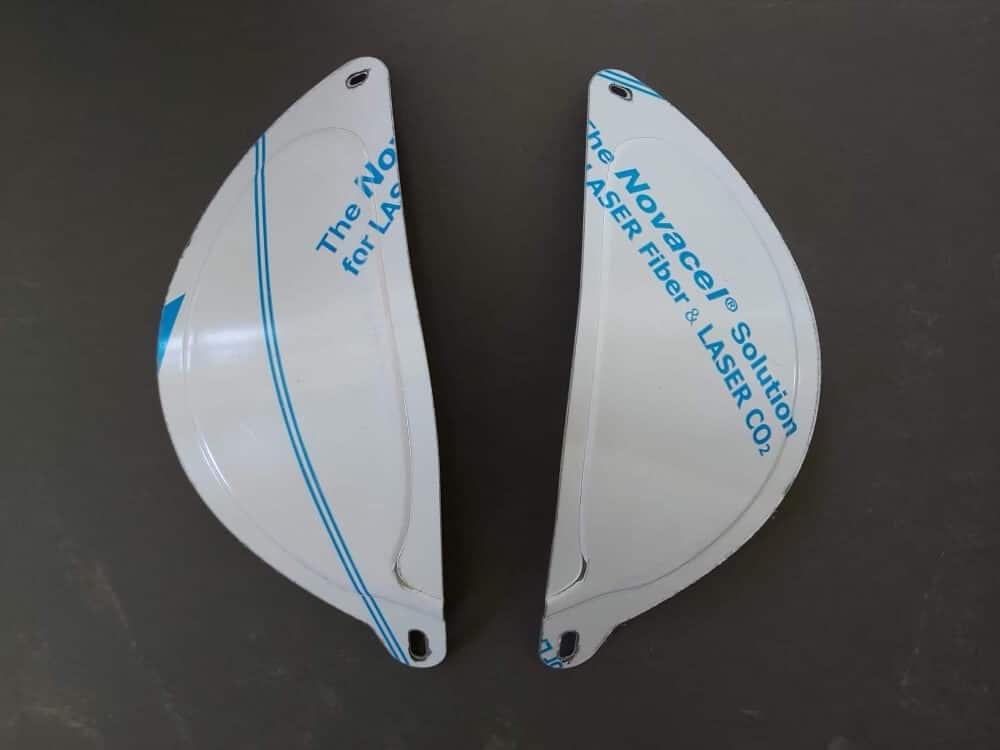 Where Can I Buy Squarebody Stone Shields?
Despite no longer being manufactured by GMC or Chevy, you can purchase our LS Fabrication reproduction Chevy truck Stone Shields on our website. In fact, we recreate this piece as accurately as possible. To do so, we use precision laser cutting on 20-gauge stainless steel. We then beadroll the metal to ensure the part looks as genuine as possible. 
Just like the traditional stone shields, our reproduction Stone shields are made from stainless steel. one of the great things about stainless steel is it is less likely to dent and won't rust like they would if they were steel or painted steel. They also shine up real nice and can be polished to a near mirror finish.
If you have concerns about the quality or comparison to genuine GMC and Chevy stone shields, check out Ronnie Wetchs' C10 "Orange Slice" Talk Segment in the October 2020 issue of "Street Trucks." They discuss our product, giving you a detailed insight into how it looks, feels and compares to the original pieces. 
Are Gravel Shields Necessary If You Have Front Tire Flaps?
We often get asked if the Squarebody stone shields are necessary when your 1973-1987 C10 style Chevy and GMC trucks have front tire flaps to deflect stones. Unfortunately, these flaps only serve to protect the front two tires and the car's lower body surrounding it. The rear end of the vehicle is left exposed. Stones and gravel often jump and bounce when unsettled by your car, which is why it is essential to have debris shields to prevent these chips and future rusting. So yes, even if you have front mud flaps, we highly recommend the stone shields to prevent rock chips. 
How Do You Install GMC Stone Shields?
We understand that not all truck owners are comfortable installing new or different products on their trucks, which is why we ensure that our GMC stone shields are easy to install. When you order from our website, you'll receive both your debris shield along with all of the hardware necessary to install it. In doing so, we make it easy for you to maintain your vehicle and prevent rusting. We are also available if you have any questions or concerns at any time during your install. 
Realistically, it won't take much in the way of tools to install this part. Dependent on the exact make and model of your vehicle, you often only need a screwdriver and a grease marking pencil to install the GMC truck stone shield correctly. We also provide detailed installation instructions that work for most Squarebody trucks. 
Naturally, if you're not sure how to properly install the part or you need some additional guidance, we recommend you review the information in your owner's manual. Typically, you'll find the information you need to replace the stone shield there, alongside a list of the specific tools required to install it. Just remember: We include all the hardware you need, so you'll only have to provide the necessary tools. 
Conclusion
If you own a classic Squarebody C10 Chevy Truck, you most likely care about keeping it in the best condition humanly possible. A new paint job or touch up job to a bunch of rock chips would be a very expensive alternative, especially when they could easily be prevented. These Stone Shields make your vehicle look nicer, reducing the chances of rock chips and rust and are easy to install. Buying original, factory-made guards is nearly impossible these days, and even that will cost you hundreds.
Because we understand how important it is to have genuine replacement parts, we've dedicated ourselves to becoming the only manufacturer who takes every step to recreate as close to the original stone shield as possible. Check out the shields from LS Fabrication today.