Billet Door Handles – 52-54 GMC Chevy Truck
Billet Door Handles – 52-54 GMC Chevy Truck
LS Fabrications Billet Door Handles are Made in America and fully CNC machined from 6061 aluminum. The tolerances between the button and handle have been tightened to eliminate play and premature wear of the assembly. A high-density nylon sleeve and stronger return spring have been added to provide a higher quality feel when operating. The handles come fully assembled and include all the required mounting hardware as well as neoprene gaskets to properly install.  These handles have the style and performance to go with any level of build!
Sold as a pair.
https://www.youtube.com/watch?v=6NzrJ8ysrkE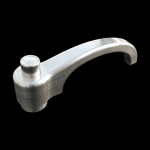 Billet Door Handles - 52-54 GMC Chevy Truck
Your review
* Review is required
Email
* Email is required
Add photos or video to your review
Customers also bought…
Here are some other popular Classic Truck Parts for your custom build!