Upper Cowl Filler – 60-66 GMC Chevy Truck
Upper Cowl Filler – 60-66 GMC Chevy Truck
Our 1960-1966 Upper Cowl Filler for Chevy Trucks finishes off your clean engine bay look when paired with our other replacement filler panels
Your factory Upper Cowl Filler rusts and will have damage over time. However, LS Fabrication has the ideal GM and Chevy truck replacement body panels that ensure a perfect fit at an affordable price. Also, they are the best looking replacement filler panels on the market.
Features:
★ Laser cut from 18 gauge steel.
★ Available in 2 different styles: Blank, or Bead rolled
★ Made to be easily installed by the "do it yourself" mechanic.
★ Easy way to give your GM and Chevy Truck a custom look under the hood.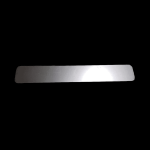 Upper Cowl Filler - 60-66 GMC Chevy Truck
Your review
* Review is required
Email
* Email is required
Add photos or video to your review
Customers also bought…
Here are some other popular Classic Truck Parts for your custom build!